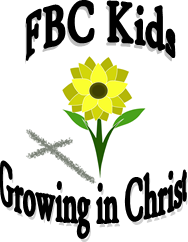 FBC Kids Mission Statement
The mission of the children's ministry at First Baptist Church is to foster meaningful relationships with children and families, ensure that all children experience God in authentic and practical ways, and equip children with a biblical foundation for a life of integrity and ministry.
We create a safe learning environment for all children.
We engage children through interactive and hands-on learning.
We show children that God is relevant by relating the Bible to their lives and the concerns of their world.
We build relationships with children and their families by example in word and deed.
Children's Ministry Center
Come enjoy a wonderful time of fellowship as we simply walk and talk.
We meet at the entrance gate to Memorial Island. Remember to bring water. Have sunscreen or bug spray as needed.
Our next Walk and Talk will be October 7!
Bible Bags/Backyard Lessons
If you are unable to attend church any given week, or have yet to return, you can request a Bible Lesson Bag with the lesson and crafts needed to do the lesson at home with your children. Or you can have Ms. Kristina come to you to teach the lesson. Call, email, or text Ms. Kristina to have your bag delivered or to schedule a time and date.
Bible Club
Session 1: My Faith Journey
We will not be serving food as we did before. Please have a lunch packed for your child.
Looking Ahead:
Bible Club Session 2- Advent November 15th
Children's Ministry Center
We offer nursery during our worship service for children birth through preschool.
Looking for information about our weekday preschool? Check it out here!
Click here for the Preschool Facebook page.
Email:
childrenministry@fbcvero.org
We have an FBC Kids Facebook page. If you are already a member of our page you can access the content.
Click the pictures for photo descriptions.